---
Your Immersive Wonderous Journey
Join us for an immersive unique experience across Jordan for 7 days. From Amman, Petra, Wadi Rum to the Dead Sea and significant places in between — your stroll through history will take you to another spiritual level.
Let's step back in time and trace the footsteps of biblical history. Put all of the stories of the kingdom that you've read, movies you've watched and sermons you've heard into perspective. Bring the Holy Land to Life in Jordan!
Jordan is an elaborate mosaic of biblical history that dates back to the times of Genesis. A well-traveled bridge between east and west, sea and desert, Old and New Testaments, this land east of the Jordan River that in ancient times was a designated place of refuge is the only area in the Holy Land that links the lives of Abraham, Lot, Moses, Job, David, Ruth, Elijah, John the Baptist, Jesus and the Apostle Paul. Reminders of their stories are everywhere in Jordan.
Be ready to encounter jaw dropping world wonder and exclusive experiences. Sleep under the stars, float in the Dead Sea and more while in Jordan.
.
---
Experience the Best of Jordan
If you want to walk in the footsteps of the Prophets and truly immerse yourself in the stories of the Bible, Jordan is the destination. Not only will your journey be enriching and forever memorable, but your experience will also be had with a touch of luxury.
SPECIAL HIGHLIGHTS INCLUDED:
Glamping Under the Stars at Luxury Wadi Rum Camp
5-Star Hotel Accommodations
Daily Meals Included
Transfers by Deluxe Tourist Bus
Jeep Safari Tour in Wadi Rum
Hamman Bath
Visa to Jordan Included
7 days / 6 nights in 5-Star Accommodations

1 night in Amman at Kempinski Amman Hotel
2 nights in Petra at Old Village Resort
1 night in Wadi Rum Luxury Bubble Tents
2 nights in Dead Sea at Kempinski Ishtar Resort

Meals included (breakfast, lunch and dinner daily) Beverages are not included
CPT Welcome Dinner
Amman City Tour (Capital of Jordan)
Tour Bethany (UNESCO World Heritage Site)
Visit Mt. Nebo
Explore Petra "Rose City" (7th Wonder of the World & UNESCO World Heritage Site)
Wadi Rum Jeep Tour
Stargazing Glamping Experience in the Magical Deserts of Wadi Rum
Free Day to relax or tour on your own
Journey to the Dead Sea
Entrance fees to all sites
Entry Visa
CPT Signature Gift
Changing Pace Travel Host
Professional English-Speaking Guide
All airline, hotel taxes and fees
Itinerary
**Itinerary shown is subject to change as needed**
Hotel Details
Amman – Petra – Wadi Rum – Dead Sea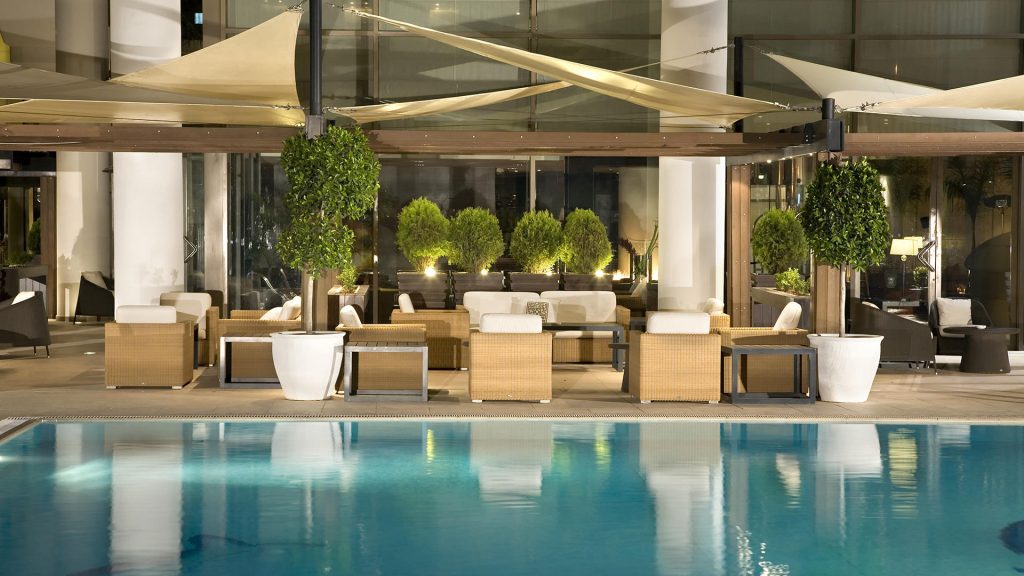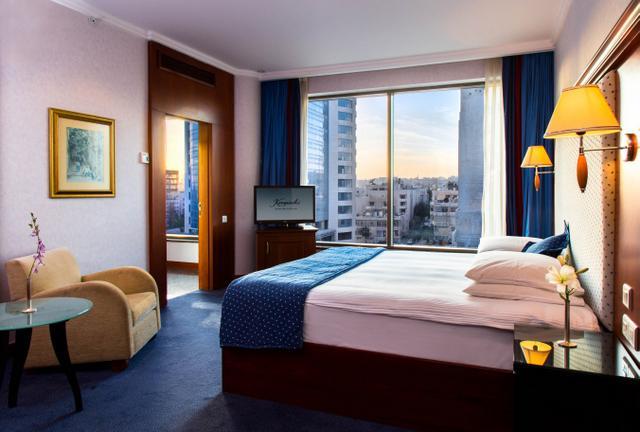 ---
Amman Accommodations

Kempinski Amman Hotel
In the heart of Amman is the five-star Kempinski Hotel Amman, the perfect starting point to discover Jordan's attractions. It's nestled on the Amman's central business district, near Abdali Mall; and is 6 km from the Roman Theater.
Amenities:
Air Conditioning
Coffeemaker (some)
Daily Maid Service
Iron/Ironing Board (some)
Mini-Bar
Refrigerator
Safe (In Room)
Cable/Satellite Television
NOTE:
Check-in: April 13, 2024
Check-out: April 14, 2024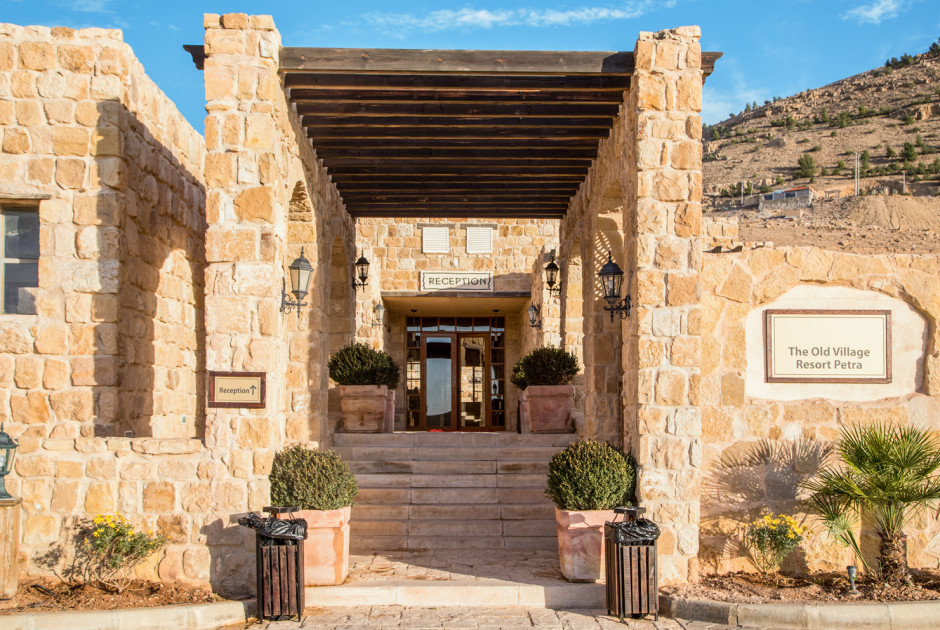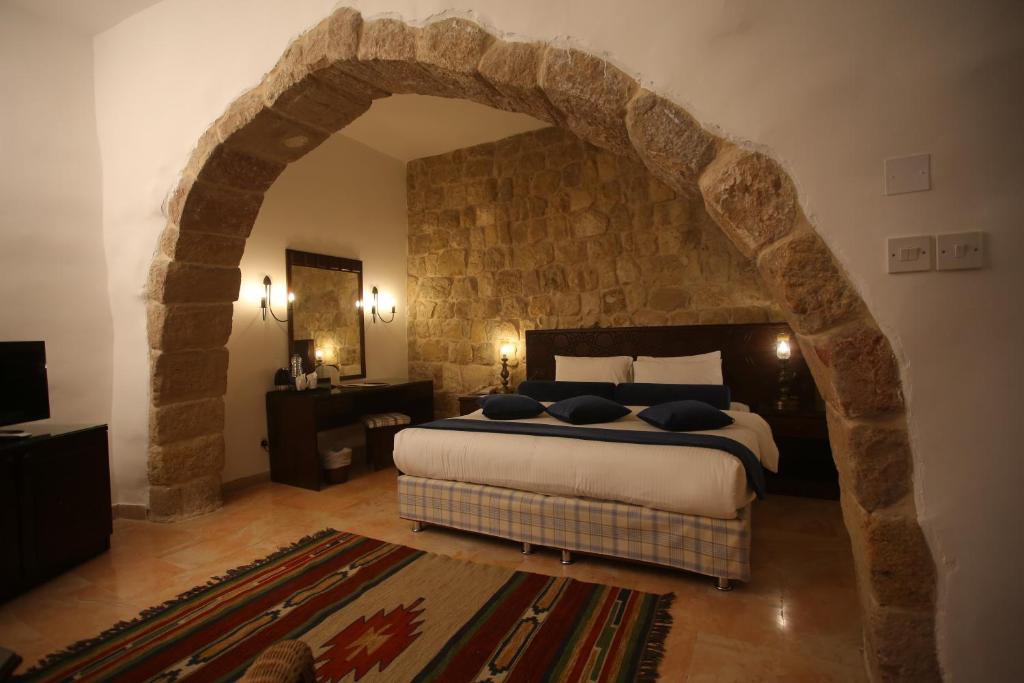 ---
Petra Accommodations

Old Village Resort
Set in Wadi Musa and with Petra reachable within 1.9 km, The Old Village Hotel & Resort is situated on the outskirts of Wadi Musa. The hotel overlooks the Shahara Mountains and is home to the fabled UNESCO world heritage site of the rose-red city of Petra, offering five star comforts for travelers.
Throughout the resort there are many seating areas where guests can relax and enjoy a refreshing cup of mint tea or Arabic coffee whilst enjoying the view over the terraces and catching the spectacular sunset over the mountains.
Amenities:
Breakfast in the Room
Minibar
Tea/Coffee maker
Good Coffee!
Air Conditioning
Safe deposit box
Wi-Fi Access
NOTE: 2-nights
Check-in: April 14, 2024
Check-out: April 16, 2024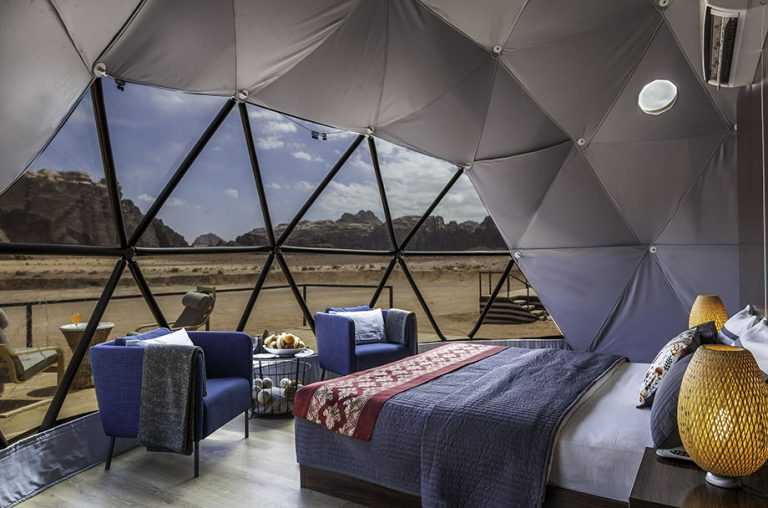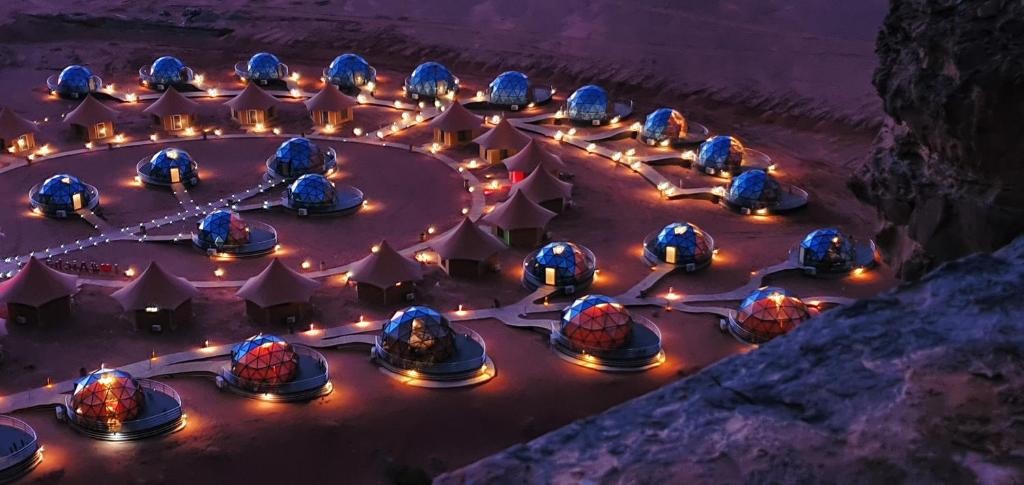 ---
Wadi Rum Accommodations
Memories Aicha Luxury Camp
Nestled in the heart of the Wadi Rum, bordered by rugged mountains and the stunning Arabian desert, this camp lets you wake up in the wild outdoors without compromising an ounce of luxury. Expect the same amenities and facilities as you would have in a top-class hotel.
Each tent is decorated with plush furnishings and a color-scheme of yellows, oranges and reds inspired by the colorful sands of the desert. Enjoy air-conditioning throughout the tent as well as showers.
Relax beneath the clear night sky and admire hundreds of glittering stars. Enjoy on-site facilities such as a library, terrace, restaurant and outdoor barbecue area. Expert chefs prepare a range of delicious meals using fresh local ingredients. From the camp, head out for long days exploring the incredible Wadi Rum.
Amenities:
Private en- suite bathroom and hot shower
Air conditioning
Slippers
Bathrobe
Dead Sea products
Bottled mineral water
Adapters
Hair dryer
No Internet access available
NOTE: 1-night
Check-in: April 16, 2024
Check-out: April 17, 2024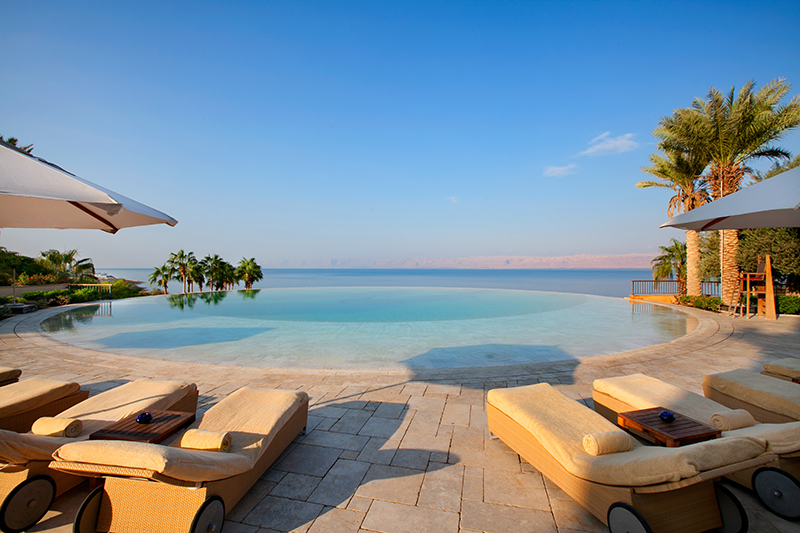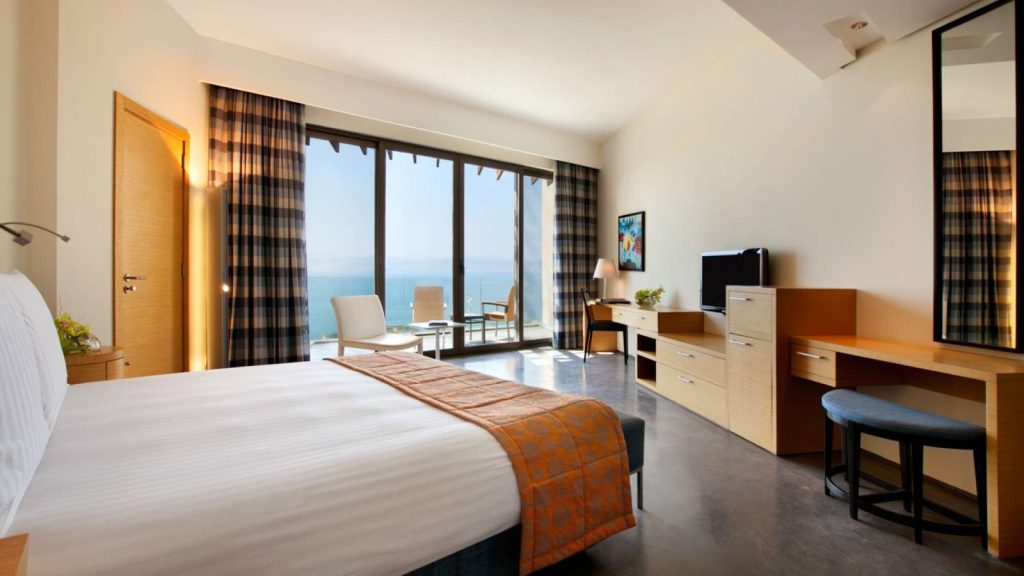 ---
Dead Sea Accommodations
Kempinski Ishtar Resort
Located at the lowest point on Earth, this resort is known for its unique exterior and interior design inspired by the hanging gardens of Babylon. Kempinski Hotel Ishtar is located on the shore of the Dead Sea, 434 m (1,312.3 ft) below sea level.
The Dead Sea also has your luxury spa needs covered—literally. Slather your body with mineral-rich mud and float in the healing waters or leave the body treatment to the experts and book a relaxing day at the Resense Spa in the Kempinski Hotel Ishtar—the Middle East's largest spa. Choose from one of the 20 Arabic design-inspired private rooms or one of the stunning outdoor treatment areas. Since you're visiting the Dead Sea during the summer, you can also opt for a morning yoga session to get your day off to a peaceful start.
Amenities:
Air-conditioned bedrooms
Kempinski bathroom amenities
Ironing board
Complimentary mini bar (soft drinks)
Complimentary Internet access
Tea and coffee-making facilities
Electronic room safe
NOTE: 2-night
Check-in: April 17, 2024
Check-out: April 19, 2024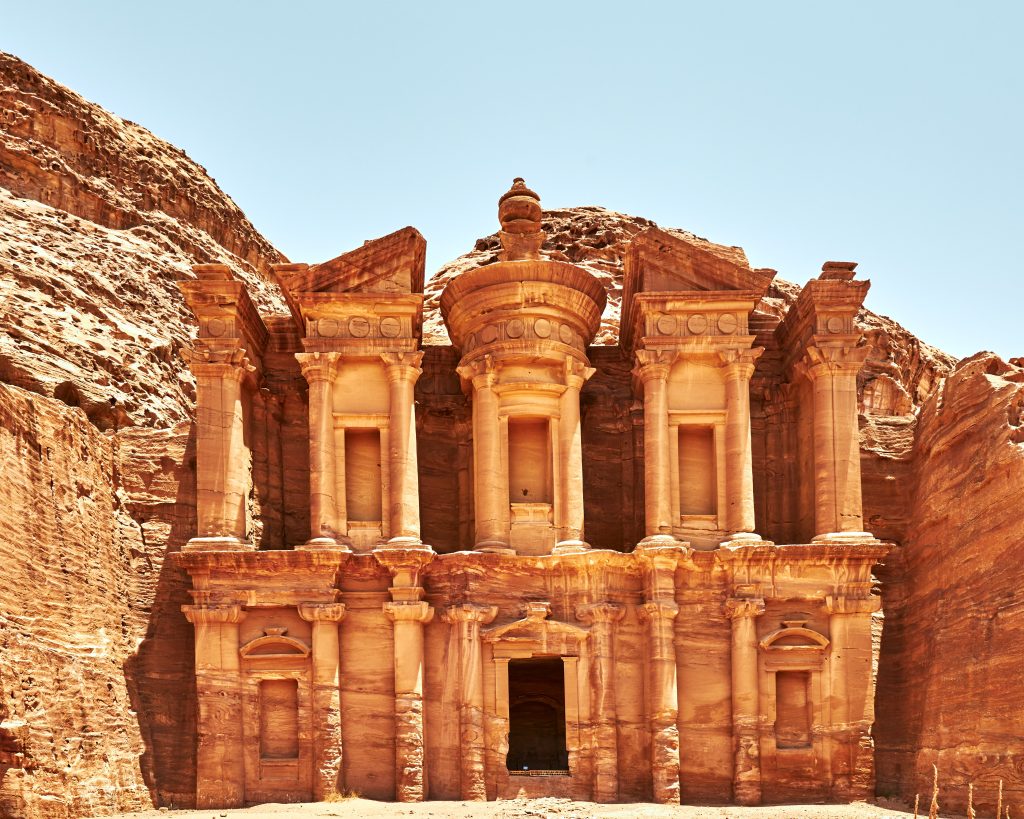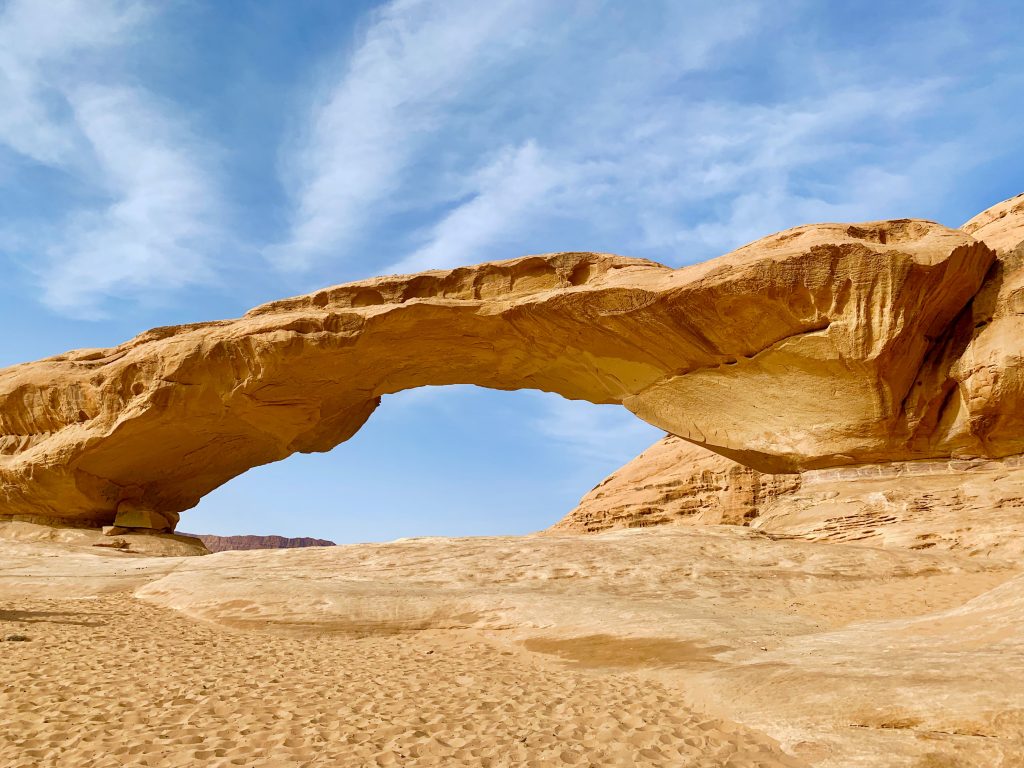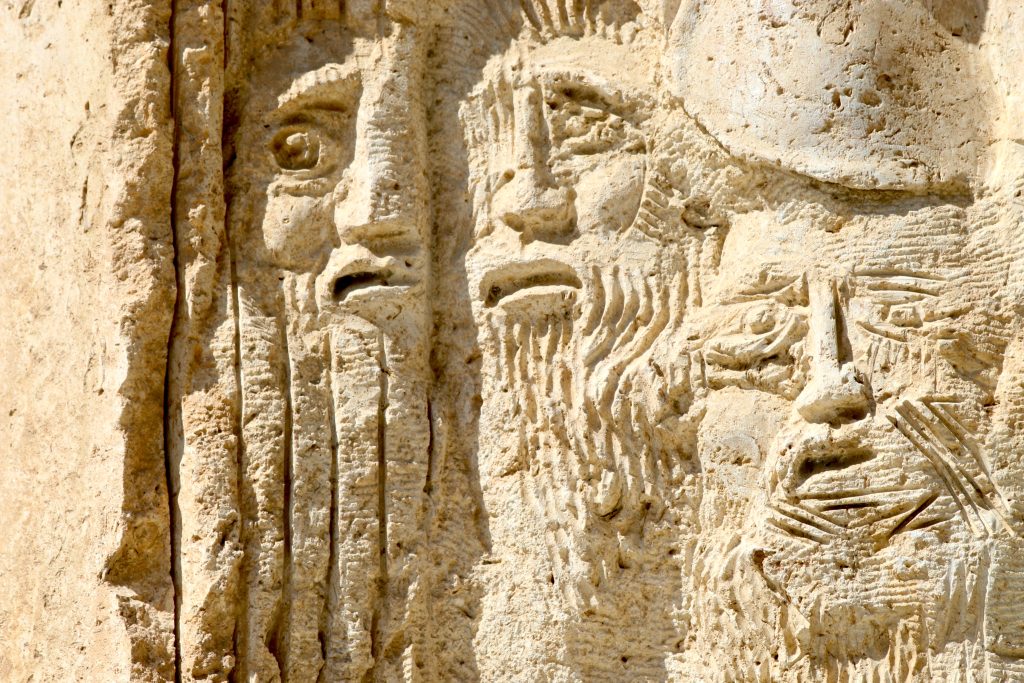 Payment Installment Plan:
Land Single Occupancy (one person in a room) – $510 deposit | Monthly payment $510
Land Double Occupancy (two people in a room) – $425 deposit | Monthly payment $425 (per person)
---
If the payment due date has already passed, you will need to pay the previous amount(s) in order to register.

| Payment Plan | Amount | Due Date |
| --- | --- | --- |
| Deposit | see above | Today |
| 1st Payment | see above | Jul 1, 2023 |
| 2nd Payment | see above | Aug 1, 2023 |
| 3rd Payment | see above | Sep 1, 2023 |
| 4th Payment | see above | Oct 1, 2023 |
| 5th Payment | see above | Nov 1, 2023 |
| 6th Payment | see above | Dec 1, 2023 |
| | | |
---
WHAT'S NOT INCLUDED:
Airport Transfers are not included
Gratuities for drivers and tour guides (suggested $10-20 per day for guide and $5-$8 per day for driver)
Meals not mentioned
Beverages are not included in meals
Travel Insurance
Personal expenses
Anything not listed in the Included Section
TRAVEL NOTES:
Hotel check-in date is Saturday, April 13, 2024
A valid passport and visa are required to travel and check into your international flight to Queen Alia International Airport (AMM). Please ensure that your passport is valid for more than six months after travel. Passports must have one blank pages (unstamped).
No vaccination certificate is required for this trip; however, we recommend that you check with your primary physician.
Your Finalized itinerary will be emailed to you 30 days prior to arrival.
TRAVEL INTERRUPTION:
Changing Pace Travel recommends that every traveler purchase travel insurance. Trip Insurance will be the only way to protect your investment. In the event of a trip interruption or cancellation, travel insurance is the only way to redeem a portion of your unused travel. Travel Insurance is an additional cost. Any questions regarding policies should be directed to the Travel Insurance Company.
IMPORTANT NOTES:
All payments are non-refundable, non-transferable and final.
A monthly payment installment plan is available. You may also pay in full at any time.
Payment Installment Plan: If one payment is missed, your registration will be automatically cancelled (after the grace period) and a reinstatement fee will apply in order to resume the trip. Additionally, if the total balance is not made by the final payment date, all reservations will be forfeited.
Late Payments: A 7-day grace period after scheduled due dates will be allowed with no penalty (except for the final payment). Reservation cancellation and forfeiture of all payments will occur afterwards.
Important Message: You may possibly reinstate your reservation with a reinstatement fee of $200; if circumstances are warranted. Changing Pace Travel has the authority to decline reinstatement at any time. Late payment requests can be made in writing via email at least 7 days prior to billing due dates. Approvals are subject to owner's discretion and accounts in good standing.
If you choose the payment plan, you will receive monthly notices prior to when your payment is due.
Provided full payment is received no later than your Final Payment Due Date, itineraries and travel instructions will be sent via email 30 days prior to travel.
All prices are based on the rates of exchange in effect at the time of price quotation. In the event that the US dollar devalues, Changing Pace Travel, LLC reserves the right to increase prices accordingly. Your final invoice will reflect increases resulting from currency devaluation. You will be notified as we are notified.
You can log-in to your payment invoice to view your account 24-hours a day. Additionally, you can pay on your invoice in small increments at ANY TIME throughout your billing cycle.