---
The Perfect Time for Moroccan Vibes
So, you haven't been to the Northern African gem of Morocco yet? No worries. This is the perfect time for you to get there.
From bustling maze-like markets and the towering Atlas Mountains to the endless sands of the Sahara, it's time for you to soak up the vibes of magical Morocco.
Known as one of the gateways to Africa, Morocco is a country filled with ancient wonders, sweeping landscapes and warm hospitality. Eclectic cities like Marrakech and Casablanca will overwhelm your senses with the sounds, rhythms and smells of locals' daily lives. You'll even head out of the city to the deserts of the Sahara and get lost in its endless sands.
Sounds like an amazing experience, right? Well, it is. Let's journey to Morocco and awaken your senses and renew your spirit.
---
Experience Magic in Morocco
See, taste and experience the wonders of Morocco. At every turn you'll have the opportunity to embrace the bohemian vibes that will surround you. From the Atlas Mountain air to the vast deserts, coastal seaside towns along the Atlantic, to chasing sunsets daily, your Morocco experience will be an unforgettable magical journey.
SPECIAL HIGHLIGHTS INCLUDE:
Evening Under the Stars at Luxury Agafay Desert Camp
Hot Air Balloon over Atlas Mountains
Spend time with a local Berber family
Camel Ride & ATV Ride through Agafay Desert
Moroccan Cooking Class
Decadent Hammam Spa Treatment
Relaxation on the Beaches of Essaouira
Visit Design Ateliers and Artisan Workshops
Visit Argan Tree Goats
8 days / 7 nights in 5-Star Accommodations

5 nights at Al Fassia Riad in Marrakech
1 nights at Riad Raoud Rayhane in Essaouira
1 night at Luxury Agafay Desert Camp

CPT Welcome Dinner
Meals (Daily Breakfast, Some lunches and dinners)
Marrakech City Tour
Visit Majorelle Gardens
Cooking Class in Marrakech
Tour of Bahia Palace
Hot Air Balloon flight in front of the High Atlas Mountains
Shopping in the Souks
Valleys of the Atlas Mountains, tea with locals
Visit a Berber Village Home
Agafay Desert Group Photoshoot
Visit Toubkal National Park
Visit Essaouira Beach
Visit Argan Oil Women's Cooperative
ATV Riding in Marrakech
Camel Riding in Marrakech
Moroccan Hammam Treatment
Argan Tree Climbing Goats Sightseeing
Roundtrip Private Airport Transfers
Private Transportation to tours
CPT Signature Gift
Changing Pace Travel Host
Private English-Speaking Guide in Marrakech-Essaouira
All airline, hotel taxes and fees
Itinerary
**Itinerary shown is subject to change as needed**
Hotel Details
Marrakech – Atlas Mountains – Agafay Desert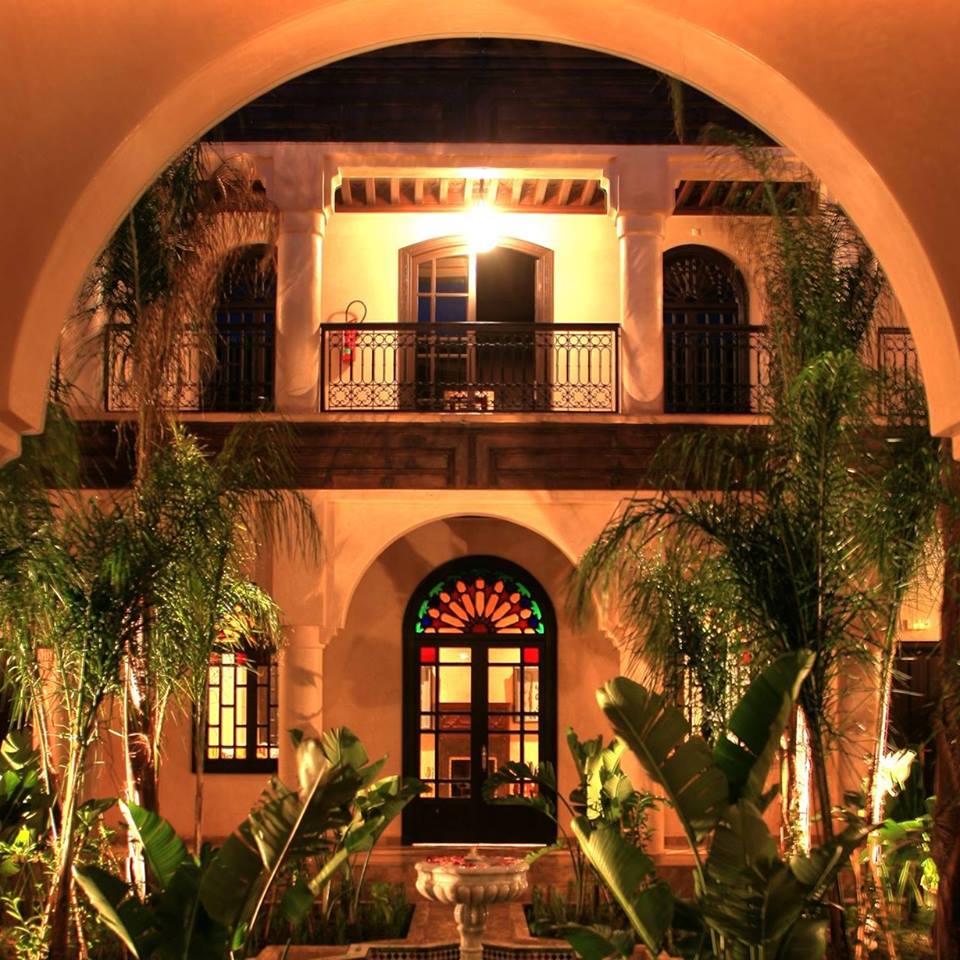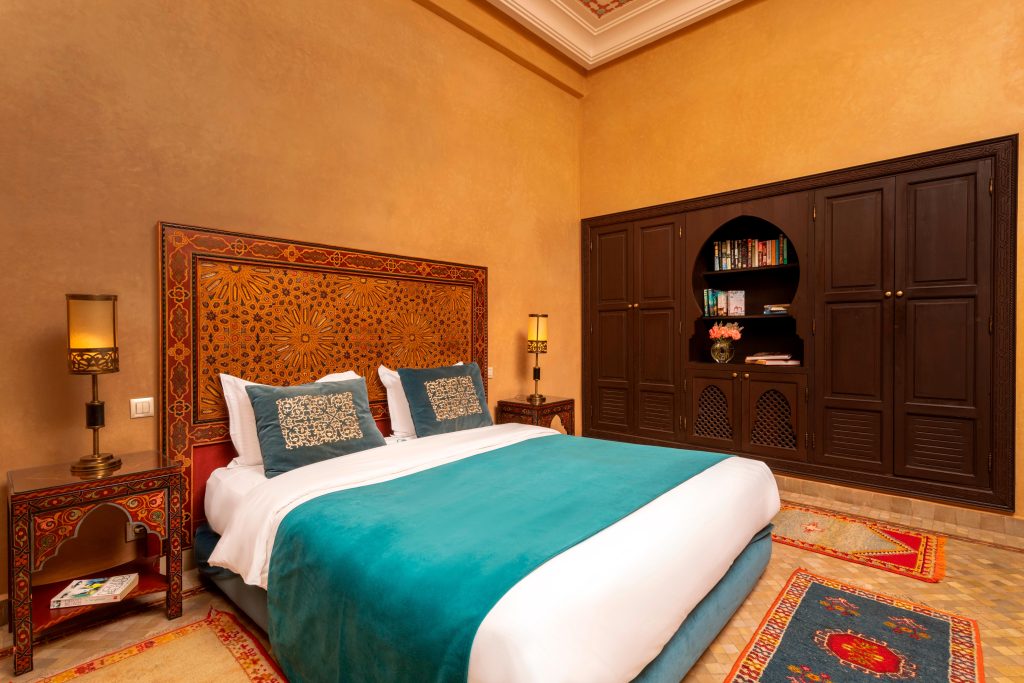 ---
Marrakech Accommodations

Al Fassia Riad
Experience the Moroccan tradition of intimacy, warmth and a family atmosphere that a riad can offer.
Each of our mosaics has been shaped and sculpted by hand. Each of the plants in the lush garden has been carefully selected. Al Fassia is a riad where authenticity meets harmony with the sole aim of subduing your spirit.
Amenities:
Air Conditioning
A Minibar and a TV with Satellite channels
Bathrobe and toiletries
Shower or bath
Mini-Bar
Safe deposit
Laundry service
NOTE: 5 nights
Check-in: May 4, 2024
Check-out: May 8, 2024
Additionally: May 10-May 11, 2024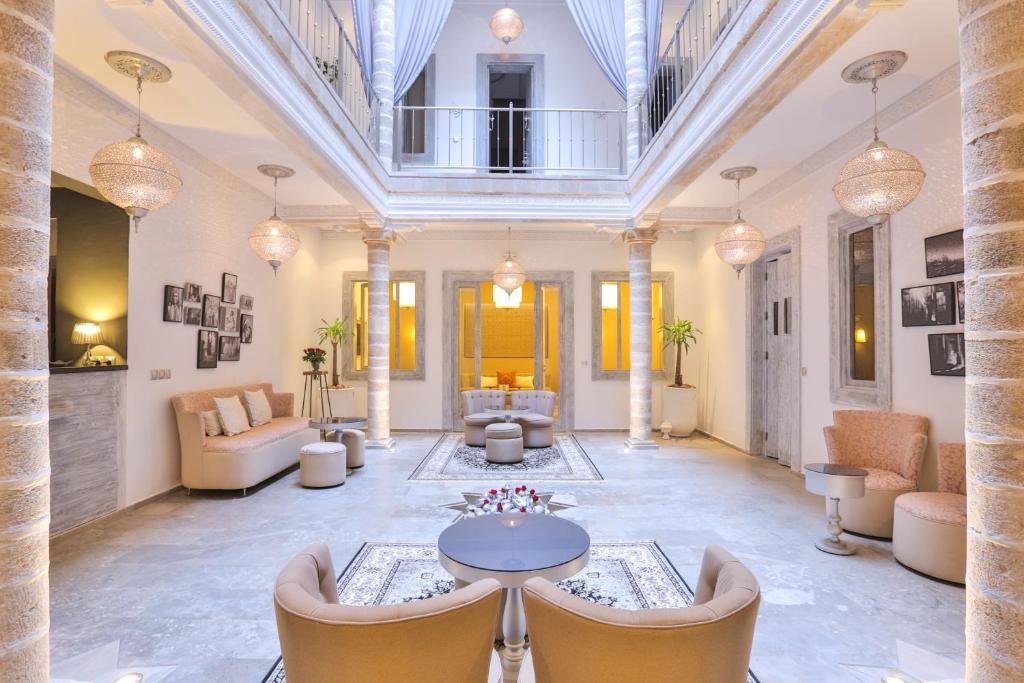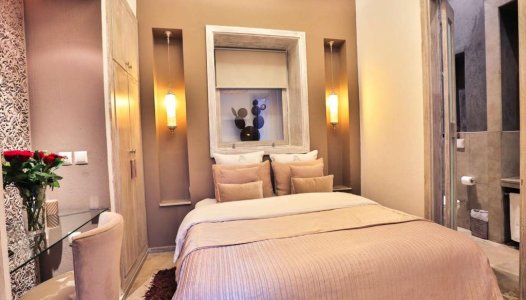 ---
Essaouira Accommodations

Riad Raoud Rayhane Riad
Originally the home of a Souiri family, the Riad Raoud Rayhane is situated in Derb Lalouj (street of the Renegades) at the heart of the historical medina of Essaouira.
Sensitively restored according to the ancestral architectural traditions of the walled city, our Riad opens its doors for you to discover the pleasure and beauty of our venture.
Each of the rooms are spread over two floors offering you sumptuous, tasteful and luxurious accommodation. You are sure to be left with an unforgettable memory of your stay. All the rooms open onto the patio and are appointed with the details and features up to the standard of luxury hotels.
Two terraces have been created on the third and fourth floors of the Riad, where you can enjoy fine gourmet Moroccan and international cuisine with magnificent views over the city, ocean and distant hills. The sheltered solarium on the top terrace also has superb views.
On the ground floor there's a hammam, where masseuses will give you a gommage with traditional black soap followed by a massage with argan oil and other natural products from the region.
Amenities:
Television
Air Conditioning
Safe deposit box
Wi-Fi Access
NOTE: 1-night
Check-in: May 8, 2024
Check-out: May 9, 2024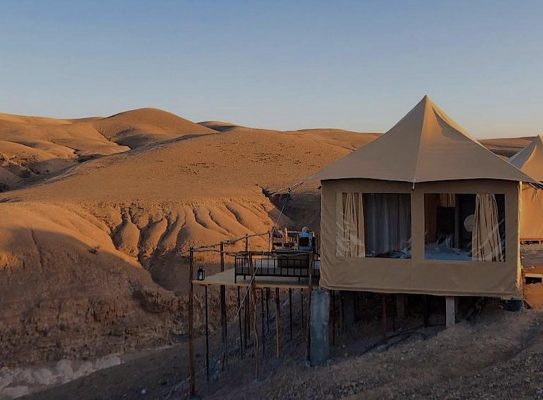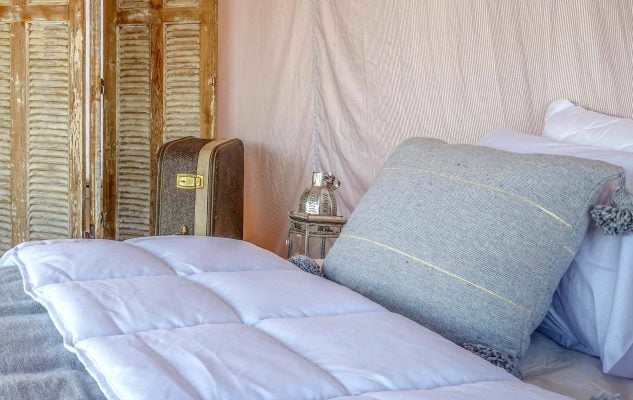 ---
Agafay Camp Accommodations
Agafay Luxury Camp Morocco
Glamping in Style, the Agafay Luxury Camp blends into untouched red-rock country, claiming 600 acres of the vast and majestic Agafay Plateau, the original rocky desert. In this desert landscape of canyons, dunes, ridges and gorges, the tented Pavilions of Agafay Luxury Camp offer an inspiring welcome to one of the world's most dramatic secluded settings.
Relax in the large outdoor bed and admire the endless dunes and the majestic mountains of the Atlas by day, or admire the billions stars by night. Or, mesmerize yourself in the comfort of your bathtub in the terrasse with panoramic views all around.
Amenities:
Private bathroom and toilet

MultiJet shower with hot water

Bathrobes

Natural bath products
Air conditioning
Slippers
Bathrobe
Hair dryer
NOTE: 1-night
Check-in: May 9, 2024
Check-out: May 10, 2024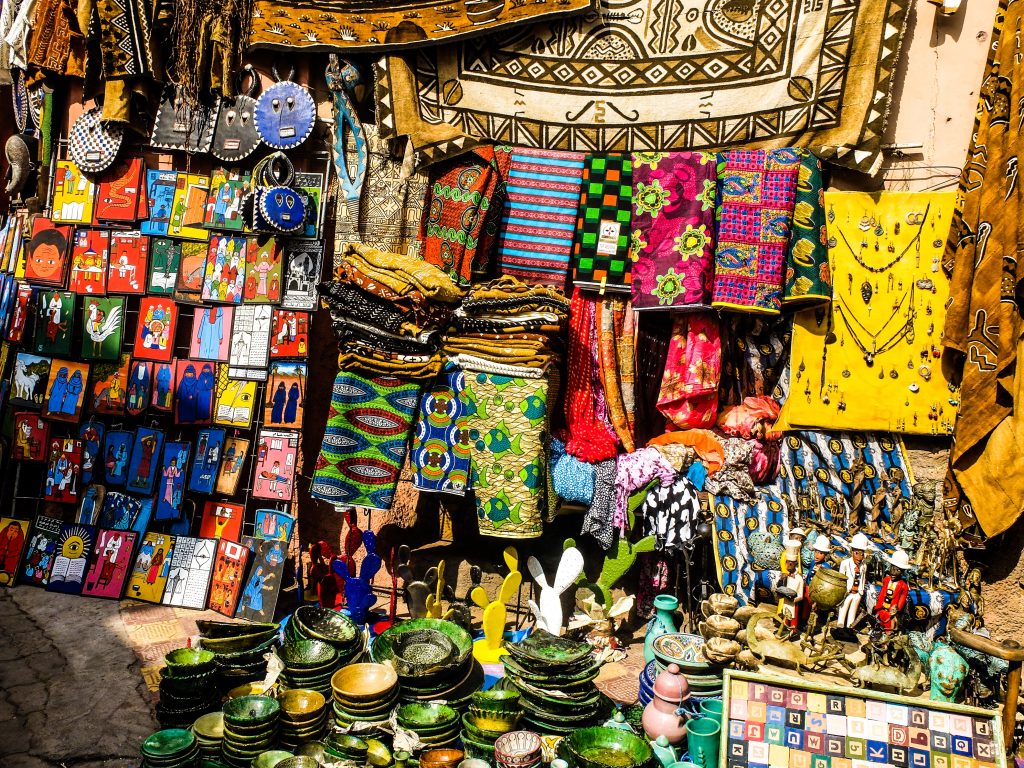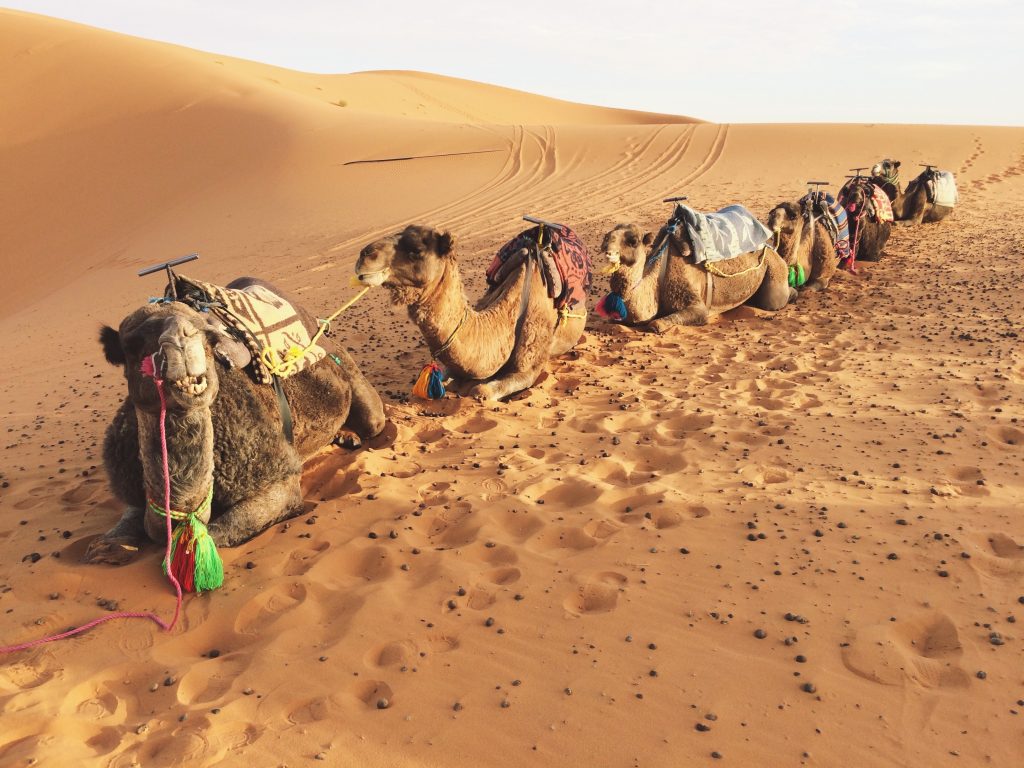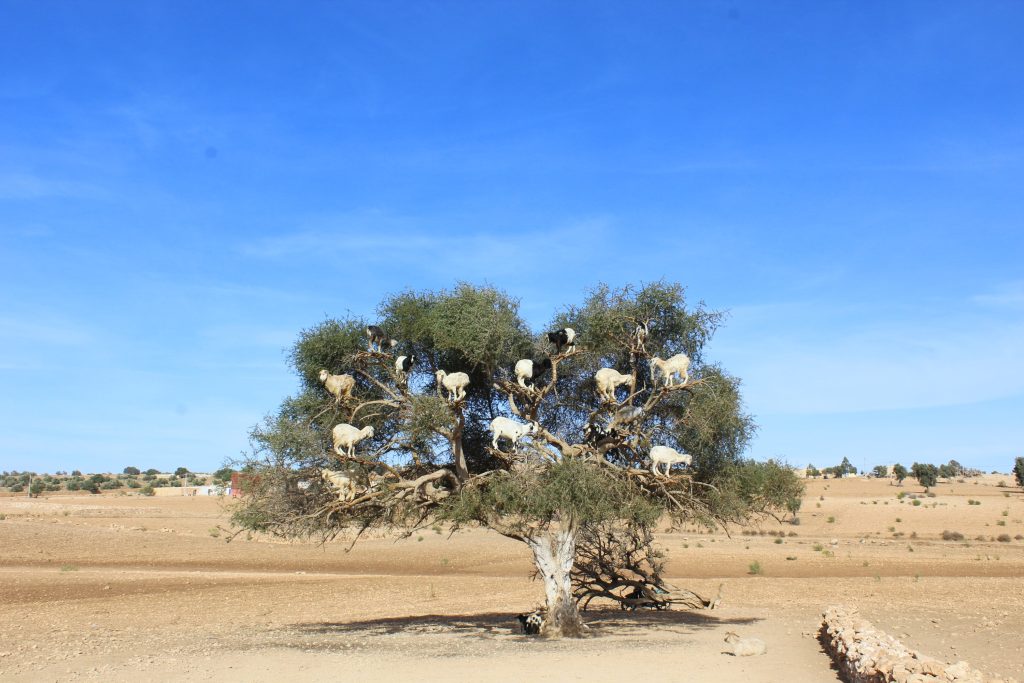 Payment Installment Plan:
Land Double Occupancy (two people in a room)– $580 deposit | Monthly payment Oct 1, 2023 – February 1, 2024 (per person)
---
| Payment Plan | Amount | Due Date |
| --- | --- | --- |
| Deposit | see above | Today |
| 1st Payment | see above | Nov 1, 2023 |
| 2nd Payment | see above | Dec 1, 2023 |
| 3rd Payment | see above | Jan 1, 2024 |
| 4th Payment | see above | Feb 1, 2024 |
| | | |
| | | |
| | | |
| | | |
| | | |
---
WHAT'S NOT INCLUDED:
International Flights to Marrakech (RAK)
Gratuities for drivers and tour guides (suggested $10-20 per day for guide and $5-$8 per day for driver)
Meals except where noted on the itinerary
Beverages during meals
Travel Insurance
Personal expenses
Anything not listed in the Included Section
TRAVEL NOTES:
Hotel check-in date is Saturday, May 4, 2024
A valid passport is required to travel and check into your international flight to Marrakesh Menara International Airport (RAK). Please ensure that your passport is valid for more than six months after travel. Passports must have one blank pages (unstamped).
No vaccination certificate is required for this trip; however, we recommend that you check with your primary physician.
Your Finalized itinerary will be emailed to you 30 days prior to arrival.
TRAVEL INTERRUPTION:
Changing Pace Travel recommends that every traveler purchase travel insurance. Trip Insurance will be the only way to protect your investment. In the event of a trip interruption or cancellation, travel insurance is the only way to redeem a portion of your unused travel. Travel Insurance is an additional cost. Any questions regarding policies should be directed to the Travel Insurance Company.
IMPORTANT NOTES:
All payments are non-refundable, non-transferable and final.
A monthly payment installment plan is available. You may also pay in full at any time.
Payment Installment Plan: If one payment is missed, your registration will be automatically cancelled (after the grace period) and a reinstatement fee will apply in order to resume the trip. Additionally, if the total balance is not made by the final payment date, all reservations will be forfeited.
Late Payments: A 7-day grace period after scheduled due dates will be allowed with no penalty (except for the final payment). Reservation cancellation and forfeiture of all payments will occur afterwards.
Important Message: You may possibly reinstate your reservation with a reinstatement fee of $200; if circumstances are warranted. Changing Pace Travel has the authority to decline reinstatement at any time. Late payment requests can be made in writing via email at least 7 days prior to billing due dates. Approvals are subject to owner's discretion and accounts in good standing.
If you choose the payment plan, you will receive monthly notices prior to when your payment is due.
Provided full payment is received no later than your Final Payment Due Date, itineraries and travel instructions will be sent via email 30 days prior to travel.
All prices are based on the rates of exchange in effect at the time of price quotation. In the event that the US dollar devalues, Changing Pace Travel, LLC reserves the right to increase prices accordingly. Your final invoice will reflect increases resulting from currency devaluation. You will be notified as we are notified.
You can log-in to your payment invoice to view your account 24-hours a day. Additionally, you can pay on your invoice in small increments at ANY TIME throughout your billing cycle.