Reignite your whole being
Located along the Caribbean coastline of Mexico's Yucatán Peninsula, Tulum is a paradise that often feels too good to be true. It's the mix of history, culture, cuisine, natural surroundings and good energy that you'll most remember. But your mind won't forget the powder white sand beaches, turquoise waters, and artistic features the town has to offer. From the awe-inspiring Mayan ruins, natural swimming pools (cenotes) and caves, to trekking through the jungle or spending lazy days by at the idyllic-Caribbean Sea beach – This Tulum Getaway is an authentic experience your mind, body, spirit and soul will thank you for.
It's time to retreat
This is an exclusive Zen experience, in a dream house with jungle views, with plenty of opportunities to reconnect with yourself, sunsets and moments to be savored forever.
We intentionally set your itinerary in a way so that your retreat to Tulum can be as peaceful or adventurous as you desire.
A full list of optional places to go and things to experience in Tulum will be provided prior to traveling. Your hostess, Nasha Pace will also be onsite to help you navigate through your immersive revitalizing experience.
6 days/5 nights accommodations at a Luxury Villa in Tulum
Breakfast Daily
Welcome to the Jungle Dinner
Farewell Mayan Dinner
After Dark Firepit Chat
'Colorful' Pool Day Experience
Invigorating Poolside Yoga Experience
Access to Bikes (on premises)
Tours & Activity Planning Assistance
Island Tours (additional cost)
Travel Insurance Complimentary Quote
Hostess Gift
CPT Hostess on-site
Villa Details
Tulum Private Luxury Villa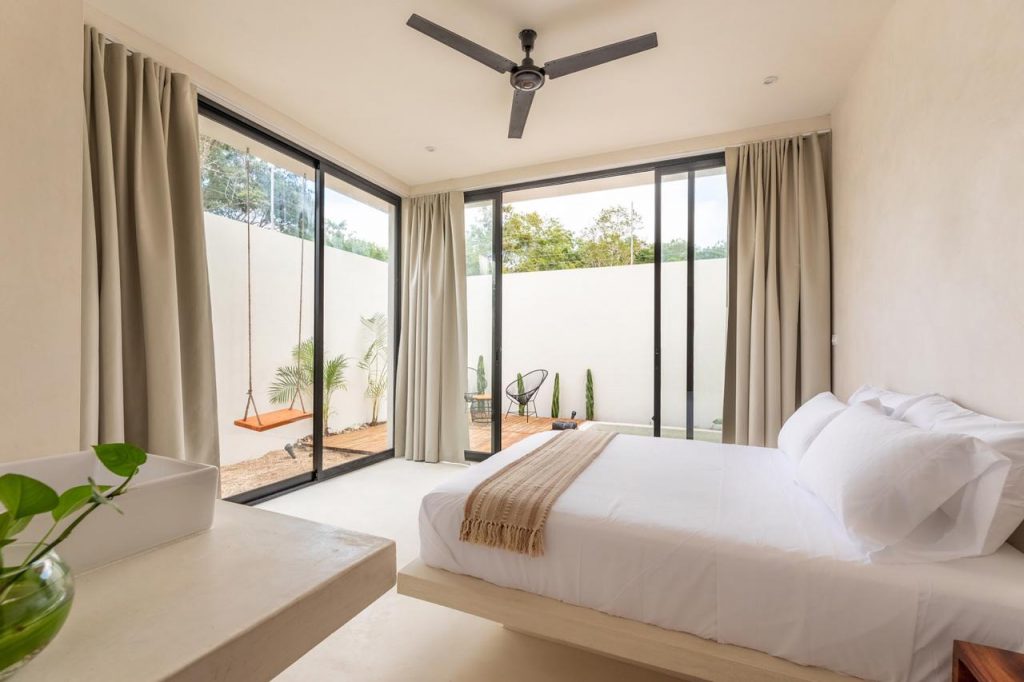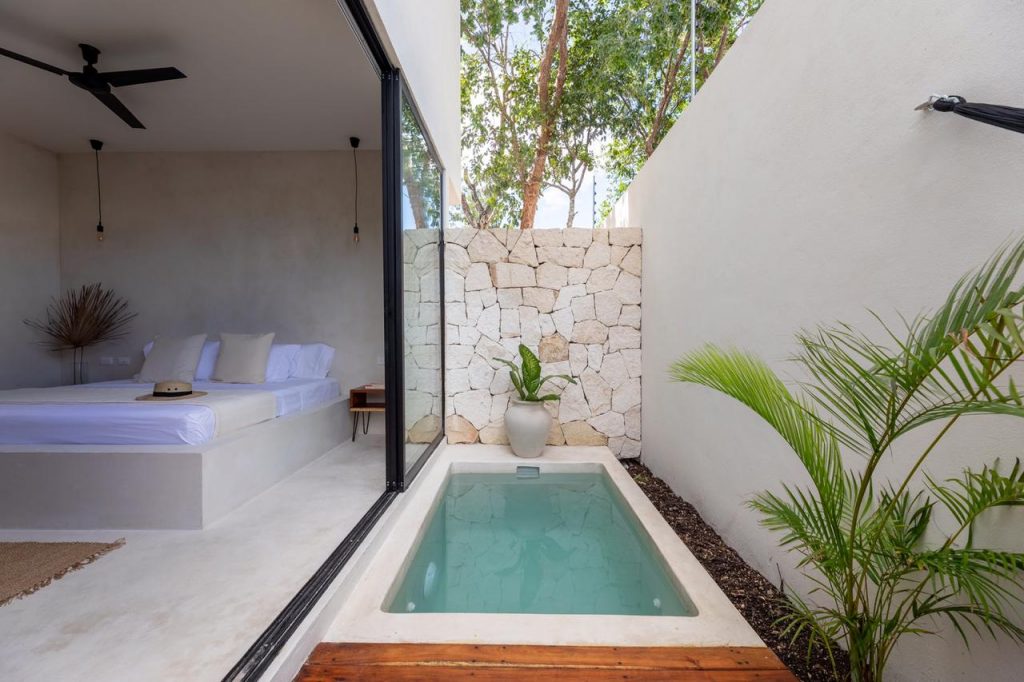 ---
Accommodations & Villa Inclusions
This property has been built in the true spirit of Tulum. Luxury by design, natural materials, and large green spaces. There's optimal private space and there's outdoor communal areas as well. You'll find balance, tranquility and harmony in this dream vacation home.
Every detail matters.
Luxury 10 bedroom villa (5 with king beds, 5 with queen beds)
Air-conditioned bedrooms
Modern en-suite bathrooms per room
All rooms are non-smoking
Ground Floor bedrooms – include private plunge pools with either a hammock or swing
Upper Floor bedrooms – include terrace with a main pool view and either a hammock or swing
Spacious swimming pool and garden area with sun chairs
Fire pit (smoking allowed in this area only)
Open living and dining areas
Full outdoor kitchen
Full Gym with cardio & weight machines
Parking on property
Free WiFi Internet Service
Chef Cooked Breakfast
Daily Housekeeping
Close distance to the hotel zone, cafes, food trucks, and beaches
Check-in: March 25
Check-out: March 29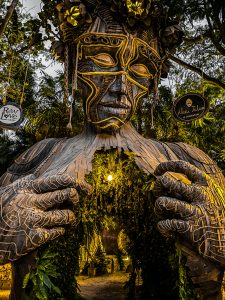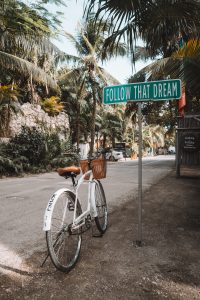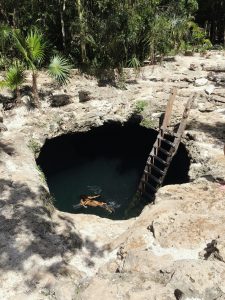 Reserve Your Retreat Now
LAND ONLY PACKAGE: 6 Days/5 Nights
Double Shared-bed Bedroom: $950 per person (Double Occupancy)
Single Bedroom: $1280 (One Occupant)
Come alone or share your accommodations with another traveler that you know.  Airfare is NOT included in the price.
---
| Payment Plan | Amount | Due Date |
| --- | --- | --- |
| Deposit | 25% Balance | 12/15/20 |
| First Payment | 25% Balance | 01/15/21 |
| Second Payment | 25% Balance | 02/15/21 |
| Final Payment | 25% Final Balance | 03/15/21 |
| | | |
---
WHAT'S NOT INCLUDED:
Airfare to Cancun, Mexico (CUN)
Transfers to Tulum, Mexico (90 min. drive)
Meals other than listed
Travel Insurance
Tips and Gratuities
Personal Expenses
Tours (host will provide options)
TRAVEL NOTES:
Please plan to arrive after 3pm on check-in day
 No more than two people to a room
Twin-beds are not available. All rooms have a king or queen bed and will be offered on a first come basis
A valid passport is required for travel to Mexico. Please ensure that your passport is valid for more than six months after travel
Currently no Coronavirus testing or quarantine in Mexico is required for entry
To maintain everyone's safety at the Villa, all registered guests are required to have a Negative COVID-19 test at least 10 days prior to departure.
IMPORTANT TRAVEL MESSAGE:
Travel Insurance: Travel Insurance is optional for this trip, however it is highly recommended that you protect your investment in case of trip interruption or cancellation. Please purchase "cancel for any reason" trip insurance policies in order for coronavirus coverage to be effective. Be mindful, that travel insurance providers request an additional cost for CFAR coverage – so be sure to add it on.
Travel Itinerary Changes: While every effort is made to keep all published dates and itineraries, we reserve the right to make changes behalf of the group since this is a group trip with contracts associated. In some cases, weather, safety or situations out of our control can necessitate an alteration in the travel itinerary. This does not constitute a guaranteed reason for a refund. No refund for unused services will be considered.
IMPORTANT NOTES:
All payments are non-refundable, non-transferable and final.
A non-refundable payment is required at the time of booking.
Payment Plan is available. If paying in installments monthly payments are due by the 15th of the month.
Late payments may result in a late payment fee and two consecutive late payments will result in automatic cancellation and forfeiture of your reservation and all payments made. In the event a reinstatement is approved. A reinstatement fee will be required in order to reactivate your booking.
The full balance must be paid no later than the final payment date, or reservations will be cancelled/forfeited.
If you choose the monthly installment plan, you will receive monthly notices when your payment is due.
Pay anytime between scheduled due dates and check your balance with 24-hour access to Billing Invoices.
Airfare: You will be required to book your airfare no later than 45 days prior to check-in if you want to be included in any ride share options.
Making reservations for this package signifies your acceptance of our Full Terms and Conditions.
All payments to Changing Pace Travel, LLC (CPT) are non-refundable and non-transferable unless otherwise specified. CPT has contractual agreements with hotels and vendors that do not allow us to obtain any refunds. This allows us to keep our package prices low and allow you to make monthly payments on your travel experience.
When specified, refund restrictions and policies for unused travel or vacation components vary and are subject to applicable rules of each supplier. Insurance premiums, airfare and some supplier fees are nonrefundable. Please inquire about supplier refund policies at the time of booking.
TRAVEL INSURANCE: Unfortunately, there are always situations and factors that may arise to cause you to cancel your travel experience. Changing Pace Travel (CPT) always recommends that you purchase Travel Insurance (even if it's not through us) to safeguard your trip and secure your investment. Travel Insurance helps provide coverage for Trip Cancellation, Interruption, Baggage Loss or Delay, Medical Expenses and more. Depending on the particular contract, there are usually fees and penalties involved with canceling. CPT will assess those fees/penalties according to the particular contract/travel experience that you are on when resolving your cancellation request. Please check on the registration form (provided by CPT) if you accept or decline Insurance. We cannot book you without your response.